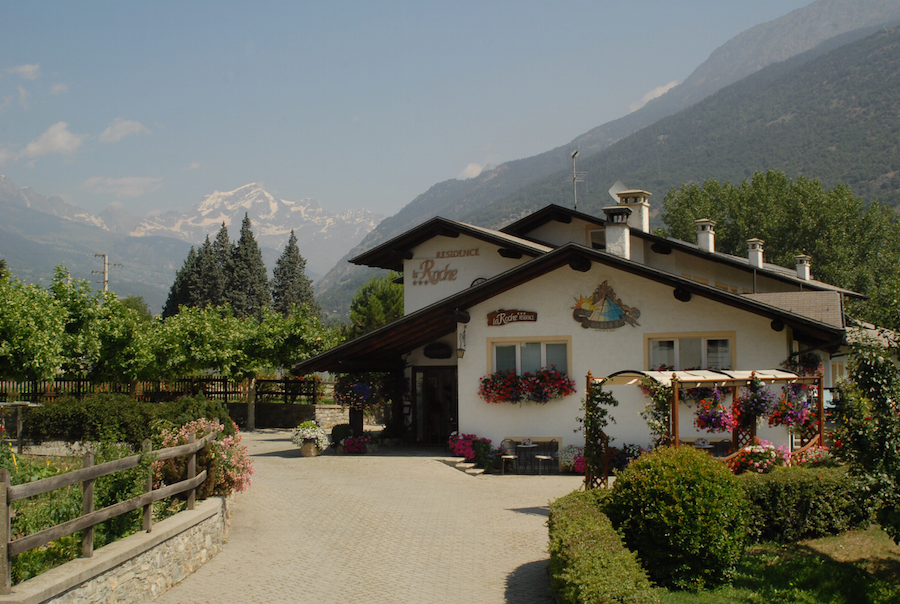 About us
Hotel Appartements La Roche, founded in 1993, welcomes its guests in a friendly atmosphere.
The hotel is situated in the heart of the delightful Aosta Valley mountains. 
Our guests can relax in our beautiful garden with sunbeds. They can also taste local spirits and sample the famous coffee "alla Valdostana" in our coffee room.
Near  the hotel there is a public garden with a playground and a football field where our guests can play with their best friends.
The Hotel Appartements La Roche gives to its guests the opportunity to park their cars either in a large outdoor car parking or in an indoor handy guarded garage.
Our guests can leave their boots in hotel guarded depot. 

We propose to our guests many daily activities: sky mountaineering, trips, walking tours. We  also organize sightseeing tours that show the finest Aosta Valley monuments.
Information about these trips will be available on the rich trip booklet that there is in the hotel.
During the summer, you can visit many small valleys and you can admire delightful and unpolluted landscapes.
During the whole year, the tourists can appreciate folk events  and gastronomic festivals that the valley offers.
You can walk through Aosta and admire its wonderful roman monuments and go to the Millenarian Saint Orso fair. 
This fair is famous all over the world for its wooden handicrafts and its farm products.
Curious people and people who love folklore  can attend the Gran San Bernardo masked carnival. These historical masks remember the arrive of Napoleon in our pleasant valley given gaiety to everybody.  
You can delight going on horse back, doing breathtaking descendents on rafting rubber dinghies, going for a walk in the woods and trips to mountain lakes.
Nature lovers can visit the National Park of Gran Paradiso and its environs.
We suggest to intellectual people, who love history, to visit the Aosta city, the ancient Augusta Pretoria, or to do a fascinating trip for discovering the local medieval castles.  
During the winter you can play the cross country skiing, in the famous skiing resort in Cogne or in the nearer one in Etroubles. You can play the downhill ski in the near Pilaskiing resort or in the new one in Crevacol.
You can also have good time thanks mountaineering ski trips.
Both in the winter and in the summer you can relax in Pré-Saint-Didier Spa It's a timeless place that gives a new meaning to baths.
A hot air balloon trip will show you an unforeseen and surprising mountain landscape.
We invite greedy people to taste the many typical foods of Aosta Valley.